Accueil Nos Alpagas Mâles / Herdsires Boutique
Home Our Alpacas Femelles / Females Directions


* * * Consultez notre nouveau site ... www.alpagadore.com * * *

* * * Visit our new website at ... www.alpagadore.com * * *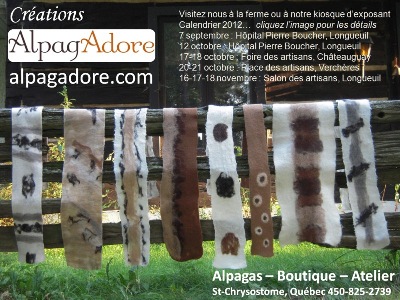 Consult our EVENTS CALENDAR



Are you looking for alpacas in Quebec? Only 45 minutes from Montreal ... and 15 minutes from the US border! Consult our currently available males and females. Our award winning genetics may be just what you need!

We have been breeding high quality alpacas since May 2007 and would love to share our experience with you. We work full-time on the farm so simply contact us by phone or email to schedule a visit anytime.

Come meet our alpacas, take a tour of the barn, and shop for that unique gift in our farm boutique. Remember to bring your camera... our alpacas will love to pose for you.

Here are a few "adorable" pictures to introduce you to our four-legged family and give you a glimpse of their gentle and unique personalities. You can see how these soft exotic animals can steal your heart at first site... and touch!

I bet you're curious to see what we can do with their fibre? Take a look at my unique handcrafted creations.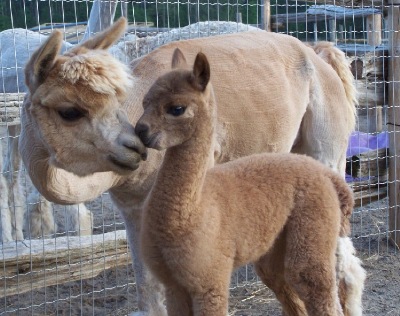 Amber & Atika This picture best illustrates why we chose the Alpaca Lifestyle. Atika, our first cria born on June 1st 2007, is only 3 days old in this picture. She is a curious little girl with an addictive personality who loves to give out kisses to all, whether you have 4 legs or 2. Amber, the dam, is one of the cutest alpacas I had ever seen, she looks like a teddy bear. I fell in love with Amber at first sight. She is calm, has very dense crimpy fiber with beautiful colour and is an attentive mother. She passed on her sweet personality and excellent fiber caracteristics to Atika.

The above picture was actually chosen by Alpaca Ontario to use on a 4 x 8 foot banner to promote the Alpaca Lifestyle at various events.

I was also inspired by this picture to create my first "Kiss Me Duo", handcrafted with affection using 100% alpaca fibre.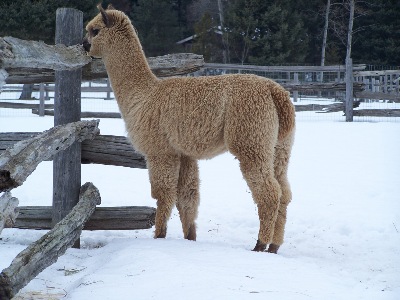 Above is Atika in December 2007 at 6 months old standing proud showing off her beautifully soft and dense fleece. She has great coverage which can be seen by the thickness of the fiber on her neck and face as well as the bundling all over her body.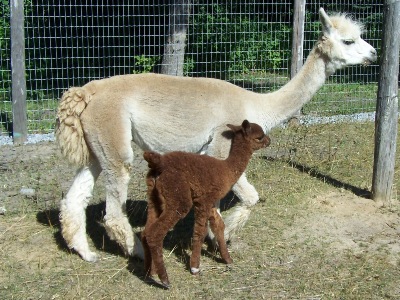 Tikita and Catou. Catou was born on August 4th 2007. She's only 1 day old on this picture. She has incredibly soft and crimpy fleece!!! She is the spitting image of her sire, Qolmesa Nanimo, who is a multiple award winning son of the renowned MMR Marcoyo. Her dam, Tikita, has very good density and crimp with a low CV giving her fiber a very nice handle. She is a great mother with a sweat independant personality.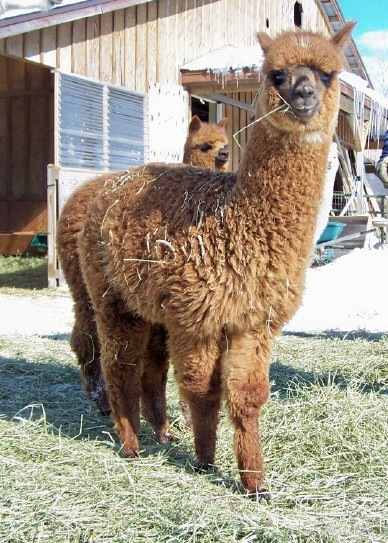 This picture of Catou was taken in February 2008 at 6 months old. She decided to take a little roll in the hay just before to show how everything just "sticks" to her cria fleece. After the first sheering, which takes place once a year, the fleece stays much cleaner.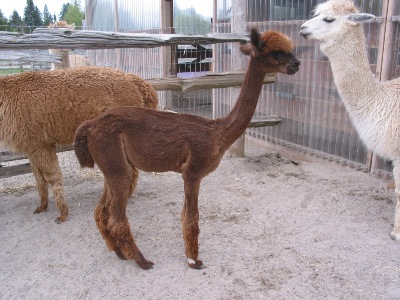 And here she is in May 2008 at 9 months old. Yes this is the same girl, Catou, on sheering day. Not a bit of hay left on her ;o)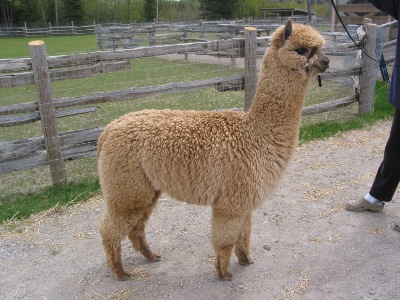 Here is Atika with her BEFORE & AFTER look. She is 11 months old on this pic taken in May 2008 on sheering day.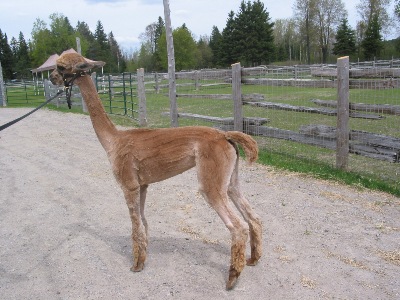 Less than an hour later, she's showing off her sexy body ;o) It must feel soooo good to get all that fibre off in this warm weather.

Alpacas are so much fun to watch! Here are a few funny moments that were captured on camera.


Accueil Nos Alpagas Mâles / Herdsires Boutique
Home Our Alpacas Femelles / Females Directions


ALPAGADORE ... La qualité et douceur que vous adorez!
Elisabeth Fortin & Luc Pinet : St-Chrysostôme, Québec, Canada
70 rang du Ruisseau-Norton Nord, rr5, J0S1R0 450-825-2739
(au coin de /corner of route 203) info@alpagadore.com